When it comes to Android app development companies in Brampton, you can't find one better than GlassMedia. Android is the most widely used mobile OS. Developed by Google, it is the most preferred platform for mobile application development and is growing too fast leaving behind all other operating systems and giving them a run for their money.
It has also emerged as a major hit in the smartphone industry due to its high user acceptance in budget category. We, as an Android app development company in Brampton, recognize your needs and apply this technology to produce maximum output by using our creativity and experience in order to satisfy our customers.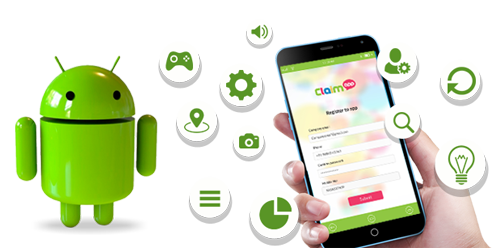 Want Us to Work on your App Idea? Talk to our Android Developers Today.
Award-Winning Android App Developers Team
Our Android application developers know that Android is a Linux-based open source operating system platform for mobile handsets developed by Google and it's Open Handset Alliance. It's vast Java library allows us to make modifications to its utilities. Android is available as open source technology for developers to develop and modify applications which can be further marketed in the app store.
We specialize in custom mobile application design and development using innovative strategies. We are further extending our application development to fields like entertainment, business and travel. We have launched many mobile projects successfully on popular devices of major brands.
Our Specialties
Multiple mobile platform expertise.
Flexible and iterative design.
Most experienced mobile developers
User-friendly and highly featured Android Applications.
Our user-centered approach to mobile app development means we develop apps keeping in mind it should be interactive for users. Thereby, putting your information, via the latest technology into the right hands. Our products are compatible for all Android versions ranging from Android 4 to beyond. We excel in 'GingerBread' and 'Marshmallow' based on customer's convenience. We explore different technologies available in this operating system to provide our customers with the latest range of apps.
Why GlassMedia is Best among the Rest?
Our wide range of application development tools provides us an edge from other development companies in Canada. We provide services in an expertise way so that all apps developed are up to customer expectation.
Areas of Expertize:
Evaluation & Analytics
Mobile app UI Design
Research & analysis
App Development & Optimization
User acceptance testing and approval
We take pride in building the most responsive apps that create values for our clients. Give us a missed call if you want to know more about our experience with Android.
If you're new to Android app development, we'll help you begin.