Brampton's Trusted Mobile Application Development Company
When it comes to native mobile application development, we are the leaders in the Brampton region. Our mobile app development firm has developed mobile apps for many well-known local companies as well as startups. Our iOS and Android apps are a cut above the rest in terms of design, coding, features and user interface. Delivering your business services to client's mobile screen effectively is what we strive to deliver.
We aren't just an application development company – we are the next big thing in the mobile arena. Whether you are planning to launch a startup eCommerce mobile application or enterprise grade stuff that works across multiple platform, we are your go-to guys.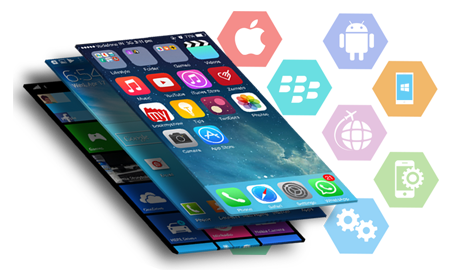 How We build Great Mobile Apps
Product Strategy
iPhone or Android app development takes a good strategy. A well defined plan that includes not only thorough research but technical know-how. We don't limit ourselves to coding. Our approach is add more value to your brand.
Interaction Design
Interaction is natural. People have to love your app to use it more. Our Android app designer works behind the scenes to create interfaces that are smooth, interactive and intuitive. Users just won't get enough of your mobile app.
Agile Development
We have the right mixture of talent, creativity, skill and experience in our mobile app designers. All these traits are reflected in each of our projects where we ensure our expertise helps our clients make the most out of mobile realm.
Discuss Your Mobile App Development Project Today.
Unmatched Mobile App Development Solutions
At GlassMedia, we redefine the word partnership. Our team works like an extension of your in-house team. We make sure that we understand your goals through in-depth consultation sessions. And we don't just stop here!
Being a leading mobile app development firm, we do our own comprehensive research to seek strategies to integrate all this into your mobile application. The idea is to make a product that reflects the very essence of your brand. Even the best mobile application development companies don't offer this in depth expertise.
iPhone Application Development
Apple creates an array of devices running the famed iOS. Its a huge market from Apple Watch to iPad, we make apps for all the Apples out there. Creating intuitive iOS apps is a smart decision indeed for your business.
We have a skillful team of iOS developers who detail your apps with amazing features including Geolocation, storage, Camera, accelerometer, media, camera and more. A team of UX/UI designers works its magic on navigation and user interface. All the prototypes are tested extensively in real world environment before launch. We adhere to all the Apple guidelines and get your apps approved faster.
Android Application Development
Android app development in Brampton is a big deal. Mobiles sporting Google's Android outsell anything out there. Missing such a huge market is a big mistake. Our Android framework developers take the challenge head on. We have created and launched dozens of apps for various versions of Android OS whether its Marshmallow, Kitkat or Lollipop.
Our team brings extensive application experience to achieve success. We make sure that your new mobile app is extensively tested on various devices. With an army of UX/UI designers, GlassMedia creates the perfect apps that work just the way you want.
Develop Cloud-Native Apps With Our Team