Are you planning to have an online shopping store to earn more profits? With more and more retail businesses getting online with stunning e-stores, it is crucial to have a responsive E-commerce website to ensure a global presence and reach. It is an easy way to start a ready to sell the business. Before choosing a specific platform for e-shop development, make sure what your budget is and what type of features you want to include. Once you realize your actual needs, go ahead by connecting with an expert E-commerce developer.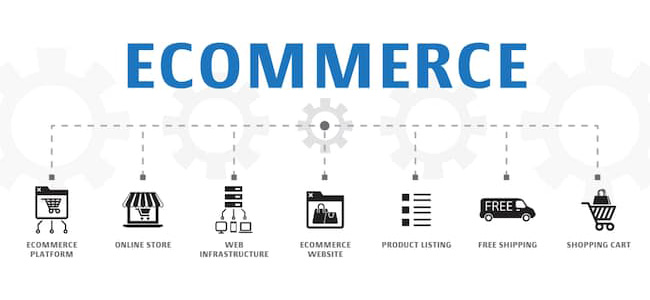 Here's a selection of platforms that should be on your shortlist:
Shopify

Shopify is one of the most popular shopping platform offering a count of inbuilt functionalities needed for your website. If you want a bespoke e-shop selling worldwide with easy to manage orders and catalog, Shopify is the thing to go for.
It offers an easy to set up the store with unlimited hosting options. With a well-stocked spectrum of custom themes and layouts, you can choose any design you want. Moreover, it allows you to sell through social channels including Facebook, Pinterest, Amazon, and many others.

WooCommerce

WooCommerce is an official plugin powered by WordPress. The greatest count of e-commerce websites on the web is designed and developed in WooCommerce. This plugin offers unlimited features and is built to work with the WP themes. Unlike other e-store platforms, WooCommerce is completely free to install and use. Along with offering a diverse range of functionalities, it also offers the integration of payment gateways, such as PayPal and Stripe with an option for direct payment.

Magento

Magento is a free open source platform built in PHP. Due to its open source features, it is more flexible and easy to customize based on your eshop requirements. Moreover, there are many free add-ons and plugins available in PHP that are all compatible to work with Magento. This means you can integrate any number of additional functionalities to manage your sales and profits. Though it is available for free, you need to provide a self hosting for security purposes.

OpenCart

OpenCart is a feature rich open source platform that is module based. This allows easy installation of extensions to enhance the estore functionalities. Like Magento, it is available for free but needs self-provided secure hosting. In addition, it offers a long list of payment gateways and features such as product inventory, order management, sales analytics and many others.

BigCommerce

It is a hosted platform which is the right option to go for if your business is quite diverse and you have a large product inventory. The features supported by BigCommerce include unlimited products, file storage, inventory bandwidth, staff logins, paid hosting, SSL certificate among many others.This platform charges no additional transaction fee for using the payment gateways, and POS transactions. It can easily be integrated with social websites such as Facebook, Amazon, eBay etc. with embedded buy buttons.

PrestaShop

PrestaShop is an open source e-commerce platform that is available for free. It offers a stack of payment gateways embedded within the site, out of which PayPal and Stripe are available for free. Since it is open source, hosting and security certificates are not provided. To make sure you get an easy to navigate eshop, there is a stock of themes available to choose the one that best suits your requirements.

Volusion

Volusion is the go-to platform if you are looking for a less expensive hosting for your e-commerce website with a site builder. It offers a limited inventory of 100 products and bandwidth. In case, your business is small with fewer products, then Volusion offers you all the functionalities that you need. Though it offers payment gateway integration, you need to buy an SSL certificate for direct payments.
So, these are the few E-commerce platforms to choose for to bring your business online. If you are looking for an E-commerce store development company in Brampton, consider hiring our web developers at GlassMedia.