Stunning & Customized Ecommerce Shopify Websites
Shopify is one of the eCommerce platform that is widely used for creating engaging online stores. It is preferred due to ease of use and powerful shopping features. This platform consists of inbuilt business themes that helps in fast and easy development.
GlassMedia offers premium shopify store designing and development services. Our Ecommerce developers in Brampton offers complete support ranging from project planning to delivery. We create beautiful e-stores that are SEO friendly, secure and meet the web standards.
Shopify Web Development Services
We are professional developers that create masterpieces. Our team is highly skilled, talented and experienced to develop such an online store that meets your business requirements. We build appealing e-shops that will surely compel your visitors to make a purchase and become regular customers.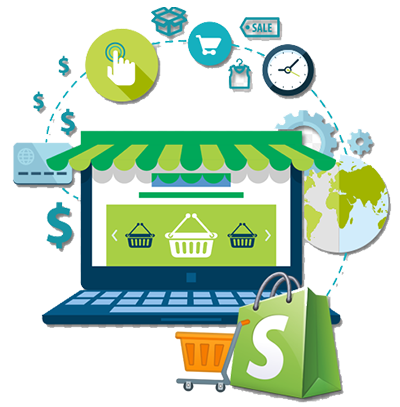 Want An Impressive & Luxurious Shopify E-store?
What We Offer in Shopify
Shopify Web Design :
We aim to develop and design web stores based on your requirements. We are highly dedicated to satisfy our clients, without pointing any finger. You tell us what you need, achieving it in the best possible way is our responsibility.
Shopify Theme Customization :
We offer easy theme customization solutions. If you have purchased a Shopify theme and wants to make changes, we'll do it.
Shopify Responsive Design :
Our developers create e-stores that are highly responsive and can run on every device whether it's a mobile or a desktop.
Shopify SEO :
We will help you in getting your business ranked on Google pages. Shopify comes with inbuilt SEO features. To get better optimization results, we will set up ongoing SEO strategies.
Data Migration to Shopify :
We provide full support in migrating a complete data from another Ecommerce platform into shopify.
Shopify API Development :
We are experts and develop fast and scalable API's, that will boost your business.
Benefits of Shopify Development
Quick and easy way to develop Ecommerce stores.
Provide varying discount options.
Fully customized default themes.
Order notifications via email, RSS feed and SMS.
Provides control on coding.
Drag-and-drop functionality to order product.
Inventory management for tracking goods.
Allow free product listings in Shopify Marketplace.
Sends out inventory warnings when a product is sold out
Vision tool allows customizing HTML and CSS.
Create Engaging E-stores & Boost Your Sales Using Shopify