Can you believe, owning an online store to sell your products and promoting your business could be completed within an hour?
Shopify offers a variety of opportunities to host an e-commerce website of your own. While Shopify looks after most of the technicalities so that you don't even have to write a single line of code, designing is also efficient with the multiple themes available on the platform. What's even better is you can use templates from a different website to power your Shopify online store.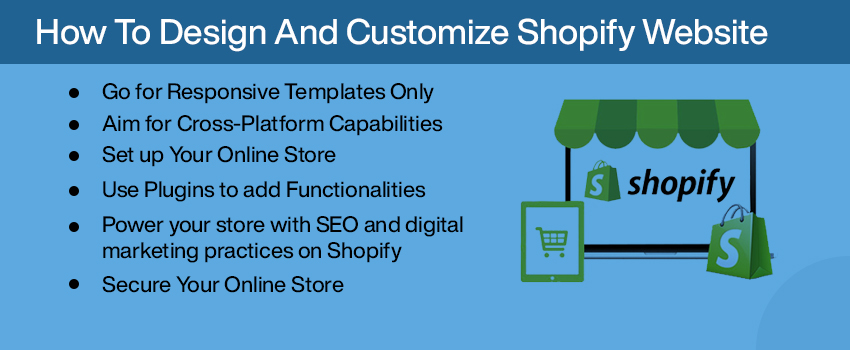 GlassMedia has a team of experts and have concluded certain tips for a Shopify website development. Let's start with some tips and tricks to help you design and customise your all-new online store
Go for Responsive Templates Only
Internet is flooding with templates to solve your specific business purpose
There are many layouts and themes out there which are responsive, look beautiful and are equipped with all the technicalities you need for an online store.
Choosing the right design not only depends on the aesthetics, but functionalities also play a crucial part.
Some templates only consist of a single page they won't solve the purpose of every store, you need to choose the one which requires the least customization and fits your business.
This is the first step after setting up a Shopify account if you do this correctly the rest of the tasks become even easier for you.
Aim for Cross-Platform Capabilities
Your customer won't always buy using the PC, he/she may be using a mobile phone or tablet while visiting your website.
Always look for templates with bootstrap capabilities.
Check for the responsiveness of the particular template on multiple platforms
Analyse the loading speed of the web pages when using this template, slow loading websites are often ranked low in SERPs.
Set up Your Online Store
When you have multiple products to sell, categorization becomes the most integral and the tedious part of the whole process.
Start by listing down all the products you are going to sell, and then organize them according to the category.
To do this, click on create a collection from the collection page, then select sales channel and click on save collection.
You can also add Menu and links to your website using the same navigation pane.
An "about us" page to talk about all your offerings or whatever you wish to convey to your audience could also be added.
Use Plugins to add Functionalities
There are endless plugins available to help you set up your website and add functionalities without much effort.
Wiser Product Recommendations plugin lets you show recommendations on your website, which seems pretty cool as you get an option of cross-selling on the platform
Tidio Live Chat plugin gives an option to your customer to interact with you in real-time, this helps in enhancing the engagement on your website.
An e-commerce website is not sufficient without a wishlist specific to every customer, Wishlist Plus lets you get that wishlist so that the customers can always come back to your store and buy their favourite products.
Though there are numerous plugins you don't need them all, prioritise according to your requirements.
Power your store with SEO and digital marketing practices on Shopify:
You want your presence to be felt on the internet, Shopify offers multiple SEO functionality so that don't have to dive into coding for this particular task.
The meta description is already available on the platform, to add metadata, description, title but you need to act smart and fill it by yourself keeping the best SEO practices in mind.
Sitemaps come in the platform to help you accumulate your webpages and submit them for Google's Search Console.
Search console is also present there to help you navigate and track the missing pages or the broken links of the website so that your customer doesn't have to look at your 404 pages.
Facebook Pixel and Google Analytics code could also be added on the Shopify platform, though it comes with a dedicated analytics tab but, having another option won't hurt you in any way.
Secure Your Online Store
Online threats could be a nightmare for running your business, make sure to add security layers to help eradicate every malicious activity.
You can activate SSL from your Shopify account to add protection.
For additional security use TLS (Transport Layer Security) to encrypt the data moving between the client and the server.
Use plugins like McAfee SECURE plugin which gives a security certificate to your website and helps your customer gain trust.
Use Two-factor authentication so that the hacker can never get into the owners' account and manipulate your precious data.
Bottom Line:
Shopify has a lot to offer and it depends on the kind of business you are into, look at your audience and the requirements of your business, other things will start to flow on their own.