No doubt, PPC is a daunting task as one has to manage accounts and budgets to keep it up. Likewise, you have to give attention to your customers to keep them at the forefront of what you do after all you are earning from them. So, it is necessary to maintain everything by setting time aside from your routine works.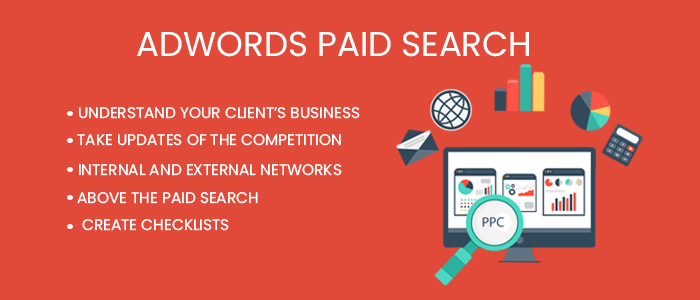 All you need to work in a better way to make your AdWords PPC account favourable for you and your clients as well. Understanding the requirements of the clients, here are some practices to guide the users in making AdWords paid search profitable.
Be Proactive

In order to stay on the top of the game of PPC, you need to take advantage of every function made for successful online business such as re-marketing or site links. It is advisable to do everything that the customer wants to see on your site. You can use the filters for quick display the data like keywords. You can check the dimension tab for monitoring the previous day changes. This can make you stay one step ahead in the competition.

Understand Your Client's Business

Inspecting the business of your client will help you to create more effective ad copy, landing pages, and better-targeted keywords. Take a good time to understand the client's business profile and their weak point to strengthen your business.

Create Checklists

Developing daily checklists turns out to be beneficial for staying proactive to monitor the activities with your account. However, if you consult for the weekly or monthly checklists, it may be invaluable for budge pacing, performances, and identifying issues.

Take Updates Of The Competition

Getting updates about what your customer's competition, is always a great tool to determine the PPC campaign. There are a number of tools where the competitors can find the keyword for bidding and ad copy. Additionally, your idea about your competitor's spending on paid search and other activities can help to determine your playing strategy. This will work in budget changes or new campaign launches.

Industry News

Changes appear in AdWords almost daily which you need to make a part of your checklist. Stay updated with the product changes in AdWords, because, it helps to make an active role in the client's account and provide them with new insights.

Internal And External Networks

PPC is all about sharing the vast knowledge and bring in more users. It plays a big role in expanding your business and gets the users which indirectly impact the revenue. Do share as much as you can and it can happen only if you make positive links to various places around your residential area, workplace, dining places, etc.

Above The Paid Search

Don't limit your business to only paid search options. If you are getting the opportunities to get the attention of your clients outside of PPC then grab it. SEO can be a big example of this providing marketing expertise and helps to manage maximum revenue.
Hopefully, by using these tips, you can also manage your PPC clients effectively. To get the help of experts in creating an effective AdWords Paid Search, you can consult with GlassMedia, a digital marketing agency in Brampton.