A logo not only represents your brand identity, but it also helps in elaborating your brand personality. By creating a visually memorable logo, you can market your products globally and encourage people to become your loyal customers. On the other hand, some companies having a good business reputation, but a bad logo make them less likely to come into the notice of people.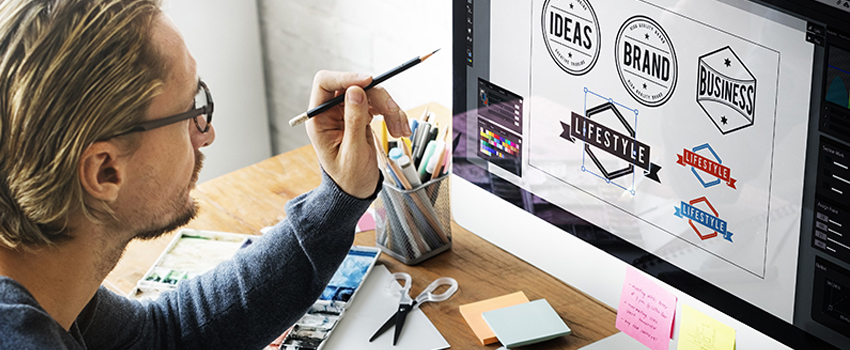 A simple, attractive and easy to remember designed logos define the success of any brand. It could be daunting to stand out your business logo in the competitive market. And for this, people use a variety of elements and techniques which deteriorate the logo rather than making it unique. It happens when you take less time to research and to understand the market needs. Unfortunately, people don't understand the competition and make serious mistakes when designing a logo.
Logo Design Mistakes You Should Avoid
Not Using Vector Graphics

As per the market demand, a company logo should perfectly fit any screen size devices. Mostly the logo designers utilize the raster graphics and bitmaps that result in losing the quality of logo when anyone zooms in. To improve this mistake, you should use the vector graphics to design the initial sketch for easier editing and screen friendly zoom options. Prefer the scalable vector graphics and embed the logo design into the web pages.

Over Designed Fonts And Typefaces

The over-designed typefaces make your logo look hotchpotch or confusing as well as eliminate the brand persona. When playing with fonts, choose the most straightforward logo design techniques. Additionally gather enough information about the company, services, products, operation and brand image that will help you to design a logo in your mind. Another mistake is using more than two font types in a single logo. If you need to use more than one font, utilize the different shades of color or a single shade of the same color. Use of more than one font type is avoidable unless the logo is meant to show the company's diversity. Pay attention to opt for vision friendly combination of fonts.

Creating Complex & Imitating Design

More simple logo you design, faster and immediate impression it will leave on the visitors, even it will be enough to memorize. A common rule for logo designers is avoiding the use of images, pictures and sketch to eliminate the logo complexity. The best thing is, you can spend more time researching the brand information to conceive a suitable logo design instead of imitating other brands.

Poor Color Coding & Creating Logo Color Dependant

Before opting for a color to design a brand, first of all, you should know the meaning of that color. For example, an orange color represents the freshness and liveliness, and blue color symbolizes the loyalty. Fortunately, most of the brand choose a blue color. When you want more than one color, consider the overall look of the shade instead of their dictionary meaning. A perfect logo is free from color dependency. You can design your company logo in white and black and add colors in the last.

Utilizing The Stock Art In Logo

Remember, use of stock-art images in the logo can eliminate the uniqueness of logo and brand personality. It even becomes an issue of copyright infringement and violation of intellectual property laws. It will end up in losing the company reputation. So, making freehand sketches using pencil or paper following the company information in mind is far better to maintain uniqueness in your logo.

Following The Trends

The trend better fits in the fashion industry, and when it comes to establishing a long-lasting brand identity, you need to do something out of the box. For example, a person wearing a red hat will not look unique in the crowd of people who also wore the red hat. You must consider designing a logo that visually displays the quality and vision & mission of the company. You need to elaborate on the features and purpose. You can pick 1 to 3 important elements to design a logo. Incorporating too many features in a logo will make it complicated and deteriorate its visual appearance.

Designing Extra Literal Logos

Some designer opts for the literal logos to avoid the complexity that seems illustrations and drawings. In such a condition, if you are looking to make it extra literal, you need to put a hint of brand identity in the logo. To improve this mistake, always remember the important three rules of logo designing that should be simple, unique and memorable.
Logo designing is a daunting task that can make and break the identity of any brand. At GlassMedia, we accept this challenge and ensure to create a logo that stands out in the crowd. Our team of professional logo designers in Brampton use the new tools and play with colors, symbols and fonts to design a creative and eye-catching logo for any business or brand.