When the website has been created for any business, it opens many channels from where people come to know about the business. Websites enable customers to effortlessly find the information they need to know about you, contact you, and purchase goods or services. A great, impressive content filled WordPress website enabled with a good impression on your customers, and ultimately brought the conversions and leads and therefore increase the business revenue.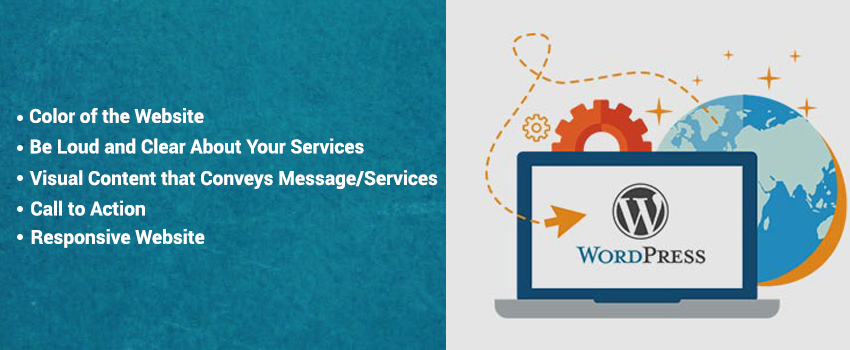 Below are 5 easy tips you can inculcate while the development of the WordPress website and design process.
1. Color of the Website
In the designing part of the WordPress website, color selection is a very essential part of it. The mindset behind how customers respond to diverse colors is essential as it will help you to understand "how your website's colors are affecting your visitors?"
If you're looking to construct a website that tells your company as being trustworthy and established, prefer to use the blue color. And if you want to convey to your shoppers that your business is youthful and bold, you should use the red color. Contact GlassMedia experts to Understand the color scheme and reflect your business feature service through it.
2. Be Loud and Clear About Your Services
Another essential factor is to keep in mind when designing your website is to get your point across quickly. In the first ten seconds of landing on your website homepage, your visitors should be able to understand your services and business.
It's important not to try to be subtle or demure when creating your website. Customers want a clear and convincing content about your business does or market or why they're on your website. An effortless way to avoid this is to create simple and clear labels on a navigation bar that are self-explanatory and it will help your customers to easily navigate through the different web page of your site.
3. Visual Content that Conveys Message/Services
People respond to visual content and such content hits the brain quickly. This implies that when you are creating your WordPress website, you need to incorporate images and video content accompanying the text. Make the best combination of video along with text and graphics.
There should be no page on your website that is in only text from, relevant images should reflect the identical message. The effect of good quality and relevant visual content along with text content cannot be highlighted enough when it comes to alluring your customers' attention and holding them from clicking out of your site.
4. Call to Action
After you've picked a powerful color scheme, you've written brief content and added some pictures to your website, now it's time to focus on devising a compelling call to action. A call to action is a piece of content of few words only that influence your customer to take action, whether it's "Click," "Buy," "Call," or "Read More," there are so many various kinds of the call to actions to choose from depending on your business requirement.
Include your call to action in a comprehensive manner and visible format where customers can easily view it. The best approach is making your call to action a clickable button that can be linked back to a contact page or your product page.
5. Responsive Website
Mobily optimizing your website is essential in today's on the go world as the maximum customer is using mobiles for various tasks. The reality is that no matter how great your website appears on the desktop, the large section of the customers is going to access it on their mobile device whether it's their laptop, phone, or tablet. Therefore ensure during the development phase that your website is optimized and responsive in nature when used on various screen sizes. Images and text should not overlay and distort.
Every small business needs an eye-catching and functioning website to draw customers' attention and boost conversion rates. With these 5 easy ways to create a great WordPress website, improving your online presence has never been more attainable.
Incorporate these methods will results in a really impressive good website, enlisting the help of an expert will take your website to the next level.