World Health Organization has declared COVID-19 an international crisis and pandemic. It has not only affected people's health but has had a huge impact on businesses around the whole world. As the word of this virus is spreading around organizations are facing many challenges to keep themselves running in the market. Well, if you are a business owner you must know about the threats we are talking about. From the reports that have been generated there are a few steps that you can take to keep your business running, without putting the health of your employees in danger. We have mentioned down a few tips that you can follow while working from home.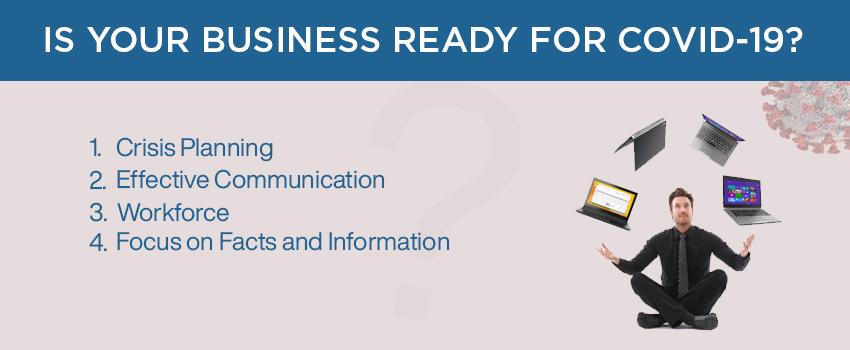 Crisis Planning
You need to make good use of your experience and come up with a crisis management plan that can help in minimizing the negative impacts. This plan will also increase the response capability of your company to the clients. Make sure to include the government instructions and priorities into your management plan in order to make it fail proof. Also, you can learn from the mistakes made by some other companies that fell into the trap of COVID-19. The most important thing for you to come up with right now is your business continuity plan.
Effective Communication
Our news nowadays mainly consists of the spread of the virus and people who are isolated under the influence of being a COVID-19 patient. This can have a highly negative impact on the general public as well as your employees. In this time of crisis, it is your duty to communicate properly with your stakeholders, employees and all the associates in order to convey facts and original information with them. This proactive communication will prove to be useful in managing public perception and containing panic. Also, it will assist you in reducing the detrimental factor that can cause a huge impact on the economy.
Workforce
In this time our priority must be human welfare and you need to do as much as possible to keep your workforce safe from this pandemic. There are a lot of challenges that employees are facing right now like having to travel to another country because of an emergency. Also, because all that is going on the production lines are put on hold. The employees are asked to stop working because of the impact that COVID-29 is having on the world. You need to come up with a plan that will help your business get through in this moment of despair.
Focus on Facts and Information
The lack of accurate facts can be utterly misleading and will make you take some bad decisions. You need to clear your head of all the inaccurate details that you hear and just trust the genuine resources for the information. Capturing the right information is going to help you to come up with a plan that you need to follow in this crisis. Also, accurate information will prove to play an important role in making informed decisions for the future of your company and employees.