The year 2020 has been a roller oyster ride for many of the businesses. Do you want to increase traffic and clientele? Each business has changed its approach this year. The customer behaviour and preference and hence the trends have changed. Therefore, each business is adopting its own SEO technique to sustain itself in the market. Now is the time to bring brand awareness and connect with people in the time of crisis.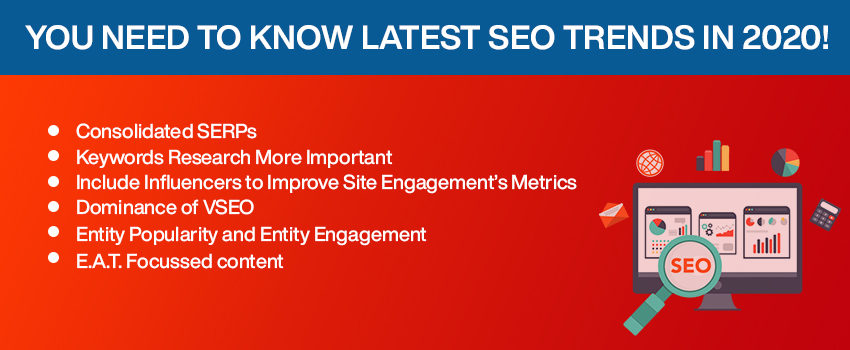 SEO is a digital marketing strategy that changes constantly. Even this year, in 2020 Google algorithms have changed a lot. No matter what the size of your firm or organization is, SEO is important for your website. As a business and website owner, you must know that SEO improves the ranking of your website. In layman terms, good SEO practice increases the visibility of websites in the Search Engine Results Page (SERP).
Are you looking for the appropriate SEO techniques for your business? Here are 9 trends you cannot ignore in 2020.
SEO has changed a lot in the year 2020. For starters, the organic results of all the websites in SERPs have declined. Let us dive into the SEO trends of 2020.
Consolidated SERPs
The SERP page is not what it used to be before. The ad shared percentage has increased. Also, the snippets and the checkboxes have got the lion's share of clicks. Another feature called "people also ask", which was launched in 2018, has gained a lot of importance this year. Additionally, a carousel video ad has been added.
Also, the clicks on zero rank searches have increased. This means that you can find the answer to your query on the search result page more easily. These consolidations of SERP have made SEO more challenging and tricky.
Therefore, in order to maintain the traffic flow to your website, it is time to think outside the box and adopt diversified approaches- omnichannel marketing and long-tail keywords.
Keywords Research More Important
Google is now an answer engine. Thus, keyword research is more important now to improve website relevance. A combination of tools like Google Keyword Planner, Ahrefs, and SEMrush to prepare a list of master keywords. Instead of keywords, think about topics. It will help you list down a secondary keywords list.
Include Influencers to Improve Site Engagement's Metrics
People spend more screen time nowadays. This is the perfect time to get help from the influencers. The effectiveness of content speaks about engagement metrics. The engagement metrics play an essential role in improving the rankings. The bounce rates, dwell time, return visits, click to call, comments, social shares, time on page, etc. changes as per the engagement metrics. Including influencers in your SEO strategy will make Google think you are trustworthy. It will hence result in better ranking, conversions, and traffic.
Dominance of VSEO
Voice-based search has increased and shopping based on the voice-based search is expected to jump to $40 billion within 2 years. About 60% of people using smartphones have used voice search once in a year. Optimize your website and practice Search Engine Optimization techniques, the basis of voice search.
Entity Popularity and Entity Engagement
Most of the searches on Google have local search intent. Even in 2020, the authority of local businesses will be a key factor for higher rankings. And, the authority of the business is based on entity engagement and entity popularity.
The Entity popularity is determined on the base of the number of mentions of brands received by the businesses on social media, videos, forums, articles, etc.
E.A.T. Focussed content
Google is getting better and better every day at acknowledging and understanding the relationship between the words with the recent launch of BERT. Bidirectional Encoder Representations is an updated algorithm to understand the user's intent behind a search query. This implies that the content is focused on E.A.T. ( Expertise. Authority. Trustworthiness).
E- The page should have quality content which is written by an incredible writer.
A- The website should have some authority on the content subject.
T- The website should have good authoritative links to make it trustworthy.
Conclusion
There will be stiff competition this year as earning a significant share of organic traffic on Google will be difficult. But, if you stay updated with these techniques you can have an edge over the competition. Reach out to the best SEO strategizing company- GlassMedia Here, you get solutions for all kinds of SEO related queries at affordable prices.