Social media has, in the past few years, grown expansively to become an important channel for marketing products and services. The reach, availability and ease of use of social media make it an important channel for marketing strategists who seek quick returns on their efforts. The number of customers addressed by social media is large and therefore marketing firms can disperse their messages to a large user base. Ease of message delivery and the ability to reach consumers even in remote areas of a nation are other factors that make social media marketing effective within a small budget.
Anything involving social media has to be able to handle a large number of audiences. Since the user base to which advertisements are released is large and diverse, strategists have to devise messages that find resonance with the largest number of people. Depending on the nature of the platform, messages have to be modified to suit appropriate audiences. For example, textual content that is effective in Meta would not be relevant on Instagram where pictures take over the task of conveying messages. Companies can market their products effectively by adopting the right social media strategy.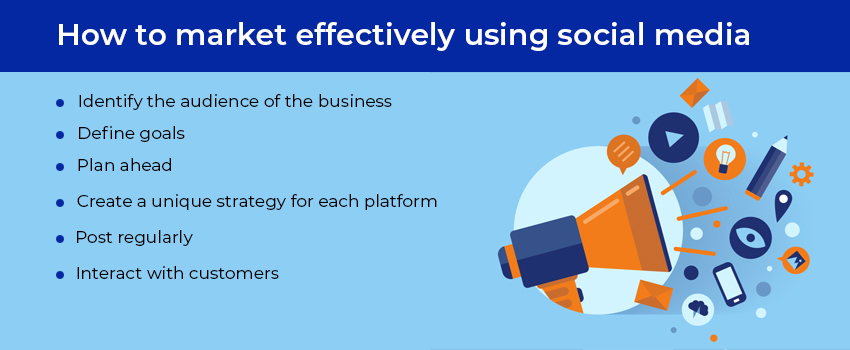 It is believed that about two-thirds of Internet users are on social media. For this particular reason, firms use social media primarily for exposure. To build an effective social media marketing strategy, one needs to:
Identify The Audience Of The Business
As in other marketing activities, social media marketing also needs companies to identify their customers. It would be a mishap to try and reach all on social media with marketing messages because this can easily create negative feedback from customers. Being an interactive platform, businesses should be careful about not creating negative feedback from potential customers. To find the right audience, background activities such as data analysis are required. Many platforms offer analytics that may be used to plot strategies in this regard.
Once a target audience is identified, businesses need to devise a strategy to cater to the needs and interests of the target audience.
Define Goals
A social-media marketing effort should have a set of defined goals. Goals need to be specific so that a plan can be laid down for the marketing team to work on. Plans should be achievable and milestones should be frequently reviewed. Most importantly, such activities should be timely because staying relevant and unique in social media is very critical.
Plan Ahead
Planning a social media strategy needs resources in terms of time and human capital. Staff entrusted with the marketing strategy should be capable and be adept at strategic thinking. Often social media strategies are developed by inexperienced hands, which could undermine the effort. Appointing a social media manager is vital to the success of a strategy.
Create a Unique Strategy For Each Platform
Since companies tend to advertise on many platforms, it would be wise to use only so many platforms that are relevant to the target audience. When too many platforms are selected for disseminating marketing content, too much money is wasted due to a lack of focus, which could derail marketing strategies. Businesses would also need to keep an eye out for posts of competitors to be aware of relevant trends.
Post Regularly
Once the platforms are identified, it is important to be regular in posting content. Relevant content should be posted regularly to keep customers engaged and interested. Regular posting ensures the feeling that the firm is interested in regular interactions and conversations with customers. Businesses need to first identify the frequency of their posts and then stick to that. Rather than posting irregularly, delivering consistent, quality posts at defined intervals is very important. Creating a social media calendar is very important to plan posts. Such calendars also help to collate and analyses feedback from customers.
Interact With Customers
As in any other marketing medium, it is important to respond to customers. Since potential customers on social media value customer experience, businesses should take the extra effort to keep them in good humour. Companies need to allocate time to interact with customers and respond quickly to their queries and comments.