A business card is the face of every business and it can make or break the image of your company or brand. An impressive business card design can leave a lasting impression on your prospective customers and business vendors. Business owners often look for talented graphic designers who can help them design one of a kind business card design. Business card is not just a piece of cardboard, it is something that represents you and your brand.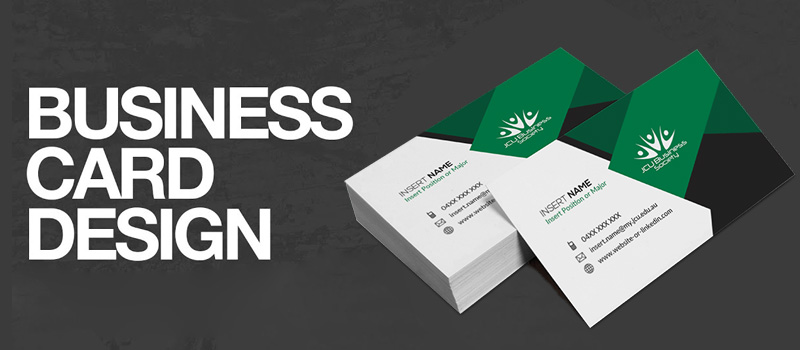 A carefully crafted business card can offer a variety of benefits to your business. Here are a few aspects of successful business card design that should be considered to stay a step ahead of your competition.
Make A Lasting First Impression

As we all know first impression is the last impression. And most of the people develop confidence in your brand or company by the way your card represents your business. What color you choose, what information you put are some of the important factors that matter a lot. It is important to give your card a purpose and ensure that purpose is understood by your audience.

A professionally designed business card displays a higher sense of credibility. Make your card memorable and functional for a lasting impression on your audience.

Provide Useful Information

Another important element of an effective business card is to have precise information. Especially, if your are a start-up, you would want customers to get attracted to your business. In this respect, your card design will play a vital role in presenting important contact information.

The data you choose to include on the card can vary. Business name, contact details and street address are a must to have. However, some popular brands include witty puns and compelling slogans.

Establish A Positive Reputation

With your business card design, you can share your mission with customers. You can either communicate this information directly through text or via media, color, images and materials. Unleash your creativity to create an amazing advertisement for your business.

It is vital to hone the design to highlight the essential features of your brand. With effective business card design, you can create a masterpiece that can help grab you more opportunities.

Create a Memorable Message

A business card is of no use if it can't communicate your message in a positive way. It should have a lasting effect on your potential clients. It is not necessary to have any witty slogans to accomplish this goal. Every aspect of your card should perfectly reflect your brand's profile. Let the design elements get together to summarize your motto in a compelling manner. Many successful companies count on this aspect of card design. If you think that your cards fail to reflect your mission effectively, it is advisable to hire skilled and experienced graphic designers to give your brand a competitive edge.

A Rewarding Effort

Emphasizing on your business card design can yield you some enduring benefits. An impressive business card will surely impress your prospective customers and lead your business towards the path of success. Through your cards, you can share essential contact information, while tailoring your brand. A valuable card design helps develop lasting relationships with the customers. It is the best way to enhance your credibility for your business. Always invest in quality business cards as it is the only brand element you leave behind with someone.
If you are a start-up and looking for talented designers for a superb business card design idea, you can contact our professionals. Contact us today to find out how we can help you.