Most of the web traffic comes from mobile. It is evident as there are comparatively more smartphone users than desktop users. Thus, a mobile app is more efficient in increasing brand awareness and ensures that it quickly reaches the site.
However, the best way is to create a mobile app for your business effortlessly to drive traffic from smartphone users. There are several ways to optimize a WordPress website and generate more traffic on your site. But, nothing can beat the way mobile works to draw traffic. It is also considered one of the SEO tactics to drive more traffic and increase the website's rank on SERP.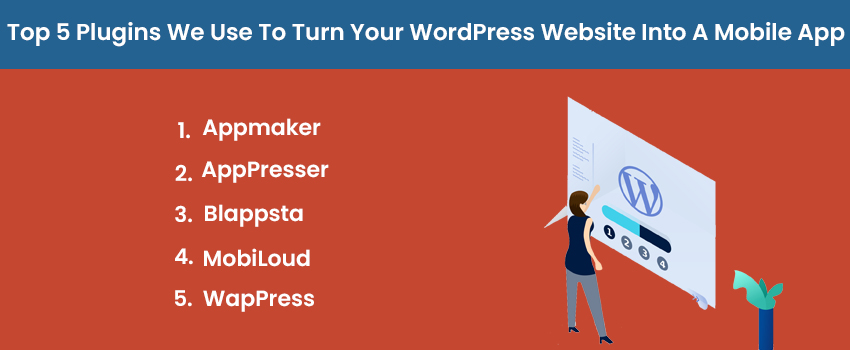 Let us have a look at the top 5 plugins to turn your WordPress into a mobile app.
Appmaker
Appmaker tops the list of Top 10 Plugins. It is a plugin that has a comprehensive 9 step process to create an app. It is entirely dedicated to WooCommerce and is considered one of the pioneers among the builders of eCommerce mobile apps. They help in creating an efficient and beautiful mobile app that is focused more on strengthening businesses.Connected to more than 1000+ WooCommerce stores, this offers 24/7 support. The Appmaker walks you through a 3 step process when you set out to build an app- creating the app on the builder; then installing the Appmaker WooCommerce Plugin; and lastly, publish the app.
AppPresser
Another high customizable app builder that helps in creating a mobile app. The website works absolutely like a mobile app. However, this builder is not ideal for beginners or non-developers. This is because it needs intensive customizing if the site is modified from the basics. It provides a push notification feature, extensive navigation designs, customized content, and other compatible WordPress plugins and extensions.
Blappsta
Another intricate plugin that supports all the platforms- Android, iOS as well as Windows. It is absolutely. lt's free to use and even provides a preview to have an excellent visual of the mobile app. You can add share buttons for email and social media, flexible palace contents, enable modification of the homepage and easy navigation, and much more.
MobiLoud
Another mobile app builder that is free, in fact, cost-effective. It has a team that builds a mobile app for your business. They offer a wide range of services- converting blogs and new websites and switching over higher traffic. It has also push notifications, customizable logos and designs, and is compatible with both iOS and Android. In addition to these, it offers regular app updates and maintenance.
WapPress
One of the swift-running solutions for your website is WapPress. It can quickly turn your website or into a mobile app. This plugin is perfect for the ones who have blogging websites or represent a small non-profit organization. With the use of WapPress, you can quickly enter the Playstore with an Android app on your website. This is one of the easiest and quick ways to build an app for your website.
The Final Words
WordPress is the friendliest platform for the visitors as well as the owners. Regardless of what technicalities are involved, the WordPress plugin makes it easier for business owners to quickly align the elements. It also helps bring the website parallel to Google's Mobile Indexing as per the guidelines and continue the online presence.
These top 5 plugins are mostly used by businesses to build an app. Get the easiest and efficient, Brampton WordPress Plugins for mobile app development services.
Are you willing to turn your WordPress into a mobile app? Reach out to the most trusted and sought after professional GlassMedia Services. The professionals are well experienced and skilled in building an app for your website that meets all your requirements. They offer an unsurpassable service to the clients within a budget-friendly option.